For those wanting more privacy, the Villas within the resort are yours for the taking. You can also book a room in one of the villas should you wish to do so.
SAYA RUMAH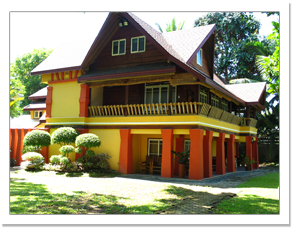 Named after the Balinese phrase "my home" - saya rumah, this villa has the Indonesian aesthetic. Fronting this house is an elevated mini hill with plenty of shade where you can enjoy a relaxing afternoon just reading a book or spending magical times with family and friends.
1 Superior Room
1 Suite
1 Attic Room
1 Living Room
1 Dining Room
MANZELY

Named after the Arabic phrase "my home" - manzely, this villa speaks of Arabian influence. Room ceilings are adorned with cascading patterned fabric. A spacious living room greets you and you can just sit around here looking at the sea as nostalgia streams into your being.
4 Superior Rooms
1 Living Room
UCHI

Named after the Japanese phrase "my home" - uchi, this villas has the Japanese touch. With magnificent bonsai plants surrounding it, with a fish pond behind, and with the aroo paradise in front, feel a sense of peace and harmony, and experience the feeling of being one with nature.
1 Superior Room
1 Suite
1 Attic Room
1 Living Room
1 Dining Room